-
Interviews of, and Articles about, Sonia
Book Excerpts
Book Reviews
Buy the Book
Sonia Pressman Fuentes
"Eat First -- You Don't Know What They'll Give You"
By WomensRadio Staff
WomensRadio Staff is made up of the dedicated men and women who work to bring information to light that aids in creating a happier, healthier and more prosperous world.
Author(s): Sonia Pressman Fuentes
Publisher: Xlibris Corporation
Copyright: November 24, 1999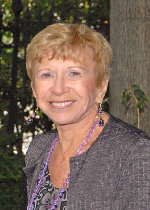 Eat First--You Don't Know What They'll Give You is the story of an extraordinary woman at an extraordinary time in our country's history. It is the story of a five-year-old immigrant girl who came to this country with her family to escape the Holocaust and grew up to become a founder of the Second Wave of the women's movement.

More about Sonia Pressman Fuentes
Sonia Pressman Fuentes, spfuentes@comcast.net, is a writer, public speaker, feminist, and lawyer. She was the first woman attorney in the General Counsel's Office at the Equal Employment Opportunity Commission (EEOC) and a founder of the National Organization for Women (NOW). In 1996, she received the Veteran Feminists of America Medal of Honor.
This was copied from the Women's Radio Web site, October 12, 2010.