-
Interviews of, Articles & Videos About Sonia
Interviews of, and Articles about, Sonia Pressman Fuentes
Articles about Sonia are also contained in the section on Belgium.
On March 14, 2013, the Veteran Feminists of America (VFA), an organization dedicated to recognizing the pioneer feminists of the second wave of the women's movement, announced the revamping of its website at www.vfa.us. Sonia is mentioned throughout the website.
On February 21, 2013, the Women's Herstory Initiative, Words of Women, International Women's Day, based in Dallas, TX, announced that the essay of seventeen-year-old Talia Weisberg about Sonia on the subject "The Most Influential Woman in My Life" won the Words of Women Essay contest.
The book, Jews of Sarasota-Manatee, by Kim Sheintal (Arcadia Publishing, Feb. 2013), contains a 2002 photo of Sonia in front of a sign about the Jewish Genealogical Society (JGS) of Southwest Florida (p 25). Sonia gave a talk to JGS on March 2002. To see Sonia's photo, go to arcadiapublishing.com. You will see a photo of the book cover. Under that are the words "Search Inside," click on that, then type in "Sonia Pressman Fuentes."
"Boston Commons," by Talia Weisberg, was published on January 8, 2013, in Fresh ink for Teens, an online newspaper sponsored by the Jewish Week in New York City.
"Groundbreakers or Ground Takers?" by Talia Weisberg, was published on December. 8, 2012, in Fresh ink for Teens, an online publication sponsored by the New York Jewish Week.
By Tyler Whitson, "Women's Rights Pioneers Strive to Influence and Inspire a New Generation," Sarasota News Leader, November 16, 2012. (Visit the Sarasota News Leader Web site.)
"Women's Rights Pioneer Sonia Fuentes Speaks at Law School," enewsletter of the Cornell University School of Law, Oct. 31, 2012.
By Deborah Carney, "Sonia Pressman Fuentes Interview About Feminism and Her Memoir," October 8, 2012.
Sarasota Observer, June 28, 2012: Sonia presents copies of her memoir to prizewinning young women students at Booker Middle School, Sarasota, FL.
Website devoted to Sarah Palin calls Sonia a "so-called feminist" (presumably under the theory that forty-seven years of fighting for women's rights isn't long enough to qualify one as a feminist). (June 25, 2012)
Who Will Speak Out Against an Outrageous Insult to Former First Lady Laura Bush?, The Huffington Post, June 19, 2012.
Sewall-Belmont House draws fire for honoring Laura Bush, Washington, DC's The Examiner, June 18, 2012.
Sonia initiates campaign to protest the National Woman's Party/Sewall-Belmont House & Museum's plan to give the Alice Award to Laura Bush, Washington Post, June 18, 2012.
Cary Franklin, "Inventing the `traditional concept' of sex discrimination," Harv. Law Review, Vol. 125, # 6, p. 1307 (2012), Univ. of Texas Law, Public Law Research Paper #219.
"Eva Alexandra Countess Kendeffy, Sonia Pressman Fuentes and Rabbi Jonathan Katz", Longboat Key Observer of March 11, 2012. This picture also appeared in the Sarasota, FL, Jewish News­ (April 2012, p. 14B).
By David Beard and Bethonie Butler, "The keys to a better life? Everyone has an opinion," February 21, 2012.
By Paul Berger, "When 'Savior of Jews' is Deeply Flawed," January 09, 2012. (Article includes a slide show about Sonia.) The article, which deals with Sonia's request to The Righteous Among the Nations Department at Yad Vashem in Israel to remove Robert de Foy from those recognized as Righteous, was picked up by newspapers in Belgium, Canada, and France. An article about the same subject appeared on Feb. 8, 2012, in Dutch in Joods Actueel, a monthly newspaper directed to Jews in Belgium. By letter of Feb. 4, 2013, The Righteous Among the Nations Department advised Sonia that "after painstaking examination," her request was denied.
By Abby Weingarten, "Feminist Revisits Her Birth Country," November 9, 2011 (Online version | Photocopy)/Sonia with Dr. Bernd Wollschlaeger
"Sonia Fuentes, writer, speaker, and feminist activist, tells us about her life," HavaMAG Life, Issue 4, September 2011 (To access the article: Click on the arrow to the right until it takes you to the Table of Contents on the left. Next, click on the first item in the Table of Contents, which is the article about Sonia, on page 10. When you come to the article, double click on each page to make the type readable.)
"Featured Author," Published by Sonia's publisher, Xlibris Corp., in a newsletter and on its website, July 27, 2011.
By Slavica Monczka, "Feminist Sonia Pressman Fuentes. Her Passion for Women's Rights," appeared in the e-zine, Inspirational Woman's Magazine, on July 24, 2011, and was written by Slavica Monczka.
"Blending motherhood and working: Moms work by choice — and also out of necessity," Deseret News, June 26, 2011
Sonia's March 3, 2011, letter to the editor of the Sarasota Herald-Tribune is discussed in "Religious Rehab at Florida Jail Sparks Protest," Church & State (Vol. 64, No. 4, Apr. 2011), the magazine of Americans United for Separation of Church and State. The letter is included and can be read in the Letters to the Editor section of this website.
The Jewish News of Sarasota-Manatee (Vol. 41, No. 2, Feb. 2011): article about the Red Star Line Museum opening in Antwerp, Belgium, on Sept. 27, 2013, which will have a permanent exhibit about Sonia and her family.
The CHJ Connection, the newsletter of the Congregation for Humanistic Judaism in Sarasota, FL, December 2010
Column called "WorkWise BlogTip: Know when to be direct" by Dr. Mildred L. Culp, which appeared in the Modesto [Calif.] Bee of Sept. 6, 2010
By Nancy Gibbs, "Love, Sex, Freedom and the Paradox of the Pill, A Brief History of Birth Control," April 22, 2010
Sonia, who graduated from Monticello High School, in Monticello, NY, was profiled in the October 2008 issue of the newsletter of the Monticello Central School District and is on the district's website.
By Susan Weidman Schneider, The Reporter (Spring 2006, Vol. 55, No. 2, p. 10), a publication of Women's American ORT
By Debra Rubin, "The f-wordOnline exhibit features local Jewish feminists," October 27, 2005. Sonia is one of six Washington, DC, area women included in the exhibit of the Jewish Women's Archive called Jewish Women and the Feminist Revolution.
By Sylvia Danovitch, Women in Judaism: Contemporary Writings, June 2003 (This interview also appears on the website of Women in Judaism: A Multidisciplinary Journal, on whose consulting board Ms. Fuentes serves.)
By Phil Fink, radio interview on Shalom America, WELW 1330 AM, Cleveland, Ohio, Feb. 3, 2002 (not available on the www)
By Lisa Katz, "The Making of a Jewish American Feminist: Sonia Pressman Fuentes." This is a seven-part piece about Eat First and Ms. Fuentes.
By Ellen Joan Pollock, Wall Street Journal, May 1998 (This article is a follow-up to a 1975 Wall Street Journal article by Mary Bralove.)
By Risa Molitz, "Fuentes' lecture leads to talk on uniting women," University of Virginia's The Cavalier Daily, October 22, 1997.
Excerpt from Betty Friedan's article, "Up from the kitchen floor," NY Times Magazine (March 4, 1973), crediting Sonia with giving her the idea to start an organization to fight for women like the NAACP fought for its constituents.
By Louise Hutchinson, "U.S. Hearings To Weigh Sex in the Skies." Sonia drafted the first EEOC decision in these cases finding that airlines violated Title VII of the Civil Rights Act of 1964 when they terminated or grounded stewardesses for reaching the age of 32 or 35 or marrying.
Sonia Pressman Fuentes
First Hand History
From the Cornell Chronicle (Vol. 31, No. 31, Apr. 20, 2000), p. 7.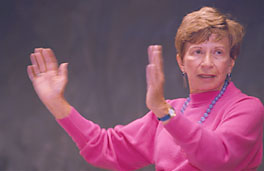 Women's movement leader and Cornell alumna Sonia Pressman Fuentes '50 speaks to students in Professor Jennie Farley's Writing in Industrial and Labor Relations: Minorities in America class April 12. Fuentes, who discussed her memoir, Eat First -- You Don't Know What They'll Give You: The Adventures of an Immigrant Family and Their Feminist Daughter, also was a guest speaker in Farley's Women and Work class. The first woman attorney in the Office of the General Counsel at the Equal Employment Opportunity Commission and a founder of the National Organization for Women, Fuentes was an adviser on some of the ground-breaking legislation that opened the doors for women in academia, athletics and the workplace. Mathew Fondeur/University Photography
(Click to enlarge)
(Click to enlarge)