-
Stories & Articles by Sonia
Articles and Stories by Sonia Pressman Fuentes
On July 29, 2020, the new website of the Cornell Club of Sarasota-Manatee was launched. It included Sonia's article on her friendship with the late Justice Ruth Bader Ginsburg.
Sonia's article, "The Meadows has a fascinating history," appeared in the online newspaper, the Sarasota News Leader, on Sept. 13, 2019. Sonia bought a condo at The Meadows in March 1999 and thereafter spent varying amounts of time there during the winters. Beginning on Nov. 1, 2006, she lived there full-time until Nov. 1, 2019, when she moved to a nearby Jewish senior community called Aviva. In early January 2020, The Meadoword, the newspaper of The Meadows, republished that article. You can access it here.
Sonia's article, "How Being an Immigrant Shaped My Life," appeared in the summer newsletter of the Jewish Genealogical Society of SW Florida, published on April 3, 2019, and on its website. You can read the article in pdf format here.

If you'd like to enlarge the print, at the bottom of each page on the right-hand side, three buttons appear. Click the middle button, which is a zoom and it enlarges the print.

On Jan. 14, 2019, Sonia's remembrance of her late, feminist friend, Dr. Bernice "Bunny" Sandler (known as the "Godmother of Title IX"), who died at the age of 90 on Jan. 5, 2019, in her Washington, D.C. condo, was published in the "We Remember" section of the Jewish Women's Archive (JWA).
On Nov. 1, 2018, a paperback anthology of writings by older women about their lives entitled "You're Doing What?: Older Women's Tales of Achievement & Adventure," edited by Marjorie Penn Lasky, was published. In a section called " A Life of Activism," it contains a piece by Sonia named "Eighty-five years old in Sarasota County, Florida." The book can be purchased from Amazon. For purchases in bulk, Regent Press (regentpress@mindspring.com) will take orders for 10 or more books and provide them at a discount.
Sonia's write-up of her experiences with Hurricane Irma in Sarasota in September of 2017 appeared in the Cornell Alumni Magazine of July/Aug. 2018 in the Class Notes for her class, the class of 1950, on page 69.
On March 20, 2018, Mary Wilson, president of the Greater Orlando, FL chapter of NOW, put Sonia's write-up on how she became a feminist in the chapter's enewsletter.
In honor of International Holocaust Remembrance Day on January 27, 2018, The Forward newspaper shared its readers' stories, including Sonia's.
Sonia participates in a one-hour webinar set up by the National Women's History Project (NWHP) on Jan. 13, 2016. 1) Click here to read about NWHP. 2) To listen to the oral comments and see the written comments, click on "webinar archive" toward the bottom of your screen. On the "webinar archive" screen, it is, however, very difficult  to move the written comments up or down. 3) To get a clearer view of the written comments and to be able to move them up and down easily, click on "Chat Log." 4) Click on "Final PowerPoint Presentation" if you would like to see that.
Sonia's article on the second wave of the women's movement: its origin, accomplishments, and the problems that remain--both in the U.S. and globally--appeared on June 14, 2015, on the website of the Institute for Science and Human Values.
Sonia's write-up appeared on the Facebook page of the Red Star Line Museum commemorating the 81st anniversary of the arrival in the U.S. from Germany, via Belgium, of Sonia and the rest of her immediate family.
"History Without Hitler?", Op-Ed in the New York Times and its international edition, October 26, 2014. This Op-Ed was written by Sonia's friend, Timothy Ryback, and edited by Sonia.
Sonia's letter of April 16, 2014, to Bishop Frank J. DeWane, bishop of the Venice, FL diocese, is on the blog of Bridget Mary Meehen.
"The Second Wave of the Women's Movement—Past, Present, and Future," Women You You Should Know website, March 26, 2014.
Sonia's article about her trip to the Catskills appeared in the Jewish News of Sarasota-Manatee (Jan. 2014, Vol. 44, No. 1, p. 23A).
Three-part series by Sonia in the Sullivan County Democrat, a newspaper in the Catskill Mountains of New York State.
Sonia's submission to the book Mother Knows Better - Sense and Nonsense from American Moms by Patti Murphy is one of over two hundred momisms in the book.
Sonia's article about the travails of The Forward after Superstorm Sandy appeared in Der Bay (Vol. XXIII, No. II, Mar.-Apr. 2013, p. 12).
"A heart-healthy diet is easier to adhere to than it may seem, especially with plenty of grocery and restaurant choices in Sarasota," December 7, 2012. (To see this article, which first appeared in the online Sarasota News Leader, once the large picture appears, scroll down to the article.) On April 27, 2015, the article was published on the website of Vegan Everyday Stories. On May 22, 2015, a shortened version of the article appeared on the website of the T. Colin Campbell Center for Nutrition Studies.
"A Journey of Discovery," Sonia's article about her September 2011 week's trip to Germany exploring Jewish life in Germany, published in two parts.
"Finding My Identity as a Feminist" - This article appeared in the online magazine, Identity, on September 21, 2011.
"My Story" - This article appeared in HavaMag, Issue 4, August, 2011.

To access the article:

Click on the arrow to the right until it takes you to the Table of Contents on the left.
Click on the first item in the Table of Contents, which is the article about Sonia, on page 10.
When you come to the article, double click on each page to make the type readable.

"First Woman: Sonia Pressman Fuentes," appeared at the end of July 2011 in Ms. JD, an e-zine for women law students and lawyers.
"Judging Our Future: Supreme Women Move Up," about the increasing percent of women judges on the U.S. Supreme Court and other courts, went online in the Café section of On the Issues e-zine on December 21, 2010. In February of 2012, the article was added to the featured news & comments section of the website of Cornell University's Avon Global Center for Women and Justice.
"Advancing Rights: 1964 Marks the Beginning of a New Era" - This article was published in On The Issues Magazine, Café section, on August 25, 2010, in celebration of Women's Equity Day, the 90th anniversary of suffrage, August 26, 2010.
Sonia has written articles for Scitable, a website for women in science, or been introduced as a resource on women and employment law for Scitable, as follows:
"My Life After Divorce" - Sonia discusses her life after divorce for a "Divorce and Women's Success" series. (2010)
"A Negative Experience, A Positive Outcome" - The lucky day Fuentes was fired. (2009)
"First Wedding at the Fontainebleau," an unpublished anecdote, November 23, 2008. 
"If You Build It, They Will Come—The Birth of A Yiddish Club," published in Der Bay, The International Anglo-Yiddish Newsletter (Vol. XVII, No. 9, Nov. 2007). Sonia starts a Yiddish Club in Sarasota, FL. Also published in the Gantseh Megillah. (Nov. 14, 2007, Issue 8.10)
"My Fortuitous Escape from the Holocaust and My Life Thereafter" - This article is published on a Web site called "Women and the Holocaust." (2006)
"A Love Letter to Ostuni" (2005)
"My Visit to Piltz" - A sequel to "A Visit to Piltz." (2005)
"Three-hour Tour Turns Unforgettable" - This article, by Fuentes, recalling the saga of her trip to the Thomas Edison and Henry Ford estates in Ft. Myers, FL, appeared in The East County Observer, a newspaper in East Manatee and Sarasota Counties, Florida, January 16, 2003.
"A Special Bond" - Sonia wrote an article about the water exercise class she attended at the Y on Potter Park Drive in Sarasota starting in 2003.
"I Lucky Everything: The Story of a Real `Miss Saigon'" - Along with a manicure, a reminder of how immigrants revitalize our nation. (2002)
"A Visit to Piltz" - This article is about Fuentes' August 2001 journey to her parents' birthplace, a village called Piltz in Poland. (2001)
"How I Built a Life in Retirement" - Sonia had a difficult time adjusting to retirement, and then she entered the best years of her life. (2000)
"How I Published My Memoir: A Lawyer-Feminist's Story" - This is the story of the six years Fuentes spent in researching, writing, publishing and marketing her memoir and making the transition from being a lawyer to a writer and public speaker. (Also see: "How I Got Published in South Africa) (2000)
"A Seder in Shanghai" - Fuentes participates in a seder in a most unlikely city, Shanghai, China. This piece appeared previously in JoyZine and on Harry Leichter's website. (1999)
"HUD Goes to the Moscow Trade Show" - This article was originally published in Sparks 28. March - April, 1999. (1999)
Breast Cancer and Ruptured/Leaking Breast Implants - The story of Fuentes' experience with breast cancer. (1998)
"Three United States Feminists: A Personal Tribute" - This article is about Fuentes' most memorable encounters with Alice Paul, the Rev. Dr. Pauli Murray, and Catherine East (1998). Later that year, a slightly different version of the segment on Alice Paul was published in Moondance. A more readable version can be accessed here.
"Representing Women," a 17-page article, originally published in Frontiers, a Journal of Women Studies (Vol. 18, No.3, Nov. 3, 1997), by the Washington State University Press, is available by emailing Sonia at spfuentes@comcast.net and asking her to email it to you or by purchasing it at jstor.org. This was Sonia's first published article about women's rights.
"House of History" (written in 1996) -- A history of the headquarters of the National Woman's Party (NWP). The house, most recently known as the Belmont-Paul Women's Equality National Monument and previously known as the Sewall-Belmont House, was for many years the headquarters of the National Woman's Party. However, at the end of 2020, NWP ended its existence and transferred its functions to the Alice Paul Institute in New Jersey.
"Magnolias" - A Washington, DC, love story. (1996)
"Family Past Unfolds Like Detective Story" - Research Leads to Ship's Records, a Movie and Snapshots. (1995)
"Impressions: The Status of Women in Southeast Asia," published in the Common Law Lawyer (no longer in existence), Sept.-Oct. 1978. (To enlarge the print on machines using Windows, hold down the control button of your computer while moving the wheel of your mouse. If viewing through Adobe Acrobat, enlarge the text with the plus button, or use the percentage dropdown list.)
Sonia Pressman Fuentes
Sonia reminisces about her three British feminist friends, March 25, 2014.
For over forty years, I've known and been in touch with three feminists in the UK: Joan Davies, Dr. Margherita Rendel, and Dr. Oonagh Hartnett. I have no recollection of how I met any of them. I have just always known them.
I have always referred to them as the UK's three outstanding feminists but I have no idea whether that is true.  They are simply the three British feminist activists with whom I've been in touch for the many decades I've been a feminist. For a brief time there was a fourth, Virginia Novarro, but she dropped off the radar screen and I have no idea what happened to her.
Joan Davies was the first woman to teach at Sandhurst, Britain's military academy, comparable to our West Point. Joan came to visit me in 1972 when my daughter, Zia, was an infant and I was living in Arlington, VA and working for the Equal Employment Opportunity Commission (EEOC).  She was due to come to my office at the EEOC at 9:00 a.m. upon her arrival in Washington, D.C., but I arrived two hours late.  My housekeeper had taken off in the middle of the night, my husband was in Canada on business, and I didn't know what to do.  I finally dropped Zia off at the home of a woman who took children in by the day and I got to work at 11:00 a.m.--but Joan wasn't there.   When she arrived shortly after I did, she told me that she hadn't been able to locate the EEOC.  She had gotten a letterhead from them but it said only "Equal Employment Opportunity Commission, Washington, D.C." When she got to Washington and asked various people where the EEOC was, none had ever heard of it! (The EEOC was a small agency and had only been in existence for seven years at that time.) Joan stayed with me for a while; she used to stand at Zia's crib singing God Save the Queen on the assumption that Zia would know it when she grew up, but that didn't happen. Joan had a great sense of humor, I always teased her about her British accent, and we had great times together.
Years later, Zia and I visited Joan and her husband, Bill, at a lovely home with a garden where she grew fruits and vegetables.  She made lovely meals for us and when it was time for dessert, she'd tell me to go outside and pick what I wanted.  She was a wonderful cook and I loved her home-made scones.  But, I was amazed that they didn't have a refrigerator.  Joan said when she needed to keep things cold, she simply put them in the pantry attached to her home, where it was cool. Their home was twenty miles from York and while there we went to see Pride and Prejudice at a theater there. I loved it. It starred the British actor, Ian Carmichael, whom I'd seen on American TV playing P. G. Wodehouse's Bertie Wooster and Lord Peter Wimsey in a Dorothy Sayers mystery series.  We also went shopping in the town and I couldn't get over the small net bags the grocers had into which they put the items people purchased.  Apparently, they didn't expect to sell a great deal to any one person.  We stopped while shopping and bought fish and chips, which we ate in the street; I loved it.  Joan had two sons, one of whom, Adam, lived in Sweden for quite some time, and a daughter, Claire.  She spoke of them often to me.  Then Bill died, and some time thereafter, Joan hooked up with John, someone she'd known in the past, and with whom she thereafter had a most companionable relationship. Joan was always active in feminist activities worldwide, fought female genital mutilation, and was involved politically.  She ran for office at one time, I think for MP, but was not successful. I hadn't heard from Joan for a while when I received an email from Claire a year or two ago.  She said she had come across my email address and wanted me to know that both Joan and John were staying in a nursing home.  Claire visited her there and gave her my regards.
Dr. Margharita Rendel was a researcher and writer, a Lecturer at the University of London, and a barrister. She lives in London but vacations at her home in the Cotswolds.  On two occasions when I was in London, she took me for a meal at the City Women's Club, to which she belonged. In 1978, Margharita arranged for me to testify about the EEOC's experience  in administering a law prohibiting gender discrimination in employment before a Select Committee of the House of Lords, which was considering the passage of similar legislation for Great Britain.  Margharita also arranged a two-week tour of Great Britain for me after my testimony, where I was to speak on the American experience with anti-gender discrimination legislation.  Shortly before I was to depart for the U.K., at a time when I had completed drafting about three-fourths of my testimony, I was stricken with back trouble and hospitalized.  My feminist friend, Catherine East, on two weeks' notice, agreed to deliver my testimony to the Select Committee and do the two week lecture tour, giving her own lectures. She came to my hospital bed, the two of us together finished my testimony, and Catherine went to the U.K., delivered my testimony, and then did the two-week lecture tour.  Thereafter, that legislation was passed for Great Britain and Ireland passed similar legislation.  Margharita remains active working on various issues. In recent years, she has been involved in studying the rail system of the U.K. and you can see her name listed in a paper on that subject here. You can read about her here. 
Dr. Oonagh Hartnett was a researcher, writer, and  teacher of women's studies at a college or institute in or near Cardiff, Wales. I googled her for this email and found that she had compiled a paper or book called Women's Studies in the U.K. with Margharita, which was edited by a Zoë Fairbarns; it is availale from an organization called London Seminars, located at Margharita's home address. In the summer of 2009, when I went to the U.K. and took three weeks of summer courses at Christ Church, Oxford University, the four of us had a reunion at Oonagh's charming townhouse at 110 Rhymney St. in Cardiff.  A slide show of that reunion (as well as other pictures of my stay in the U.K. at that time) may be seen on my website.  At that time, I was surprised  to see that Joan was walking with two long sticks, had difficulty getting around, and complained of difficulty in finding comfortable shoes. Nonetheless, while I was at Christ Church, I was asked by the National Student Union to give a talk to their members at St. Hilda's College, Oxford.  I did so, and Joan and John travelled there and back to hear me speak.
Shortly after the reunion, I received  a brief note from Oonagh with a return address of a nursing home.  Stupidly, I didn't keep the envelop, thinking that I'd heard from her again.  When I didn't,  I kept looking for  her on google and finally found a YouTube video of her made by a Robert  Slater when she was celebrating her seventy-ninth birthday at the nursing home, Belle Vue, in Cardiff. You can see that video here. I have been in touch with Robert ever since; he visits Oonagh frequently and keeps me informed on how she's doing.  Sadly, shortly after our reunion, Oonagh, who was a smoker, fell asleep one day, her cigarette dropped into a waste basket with paper, and her charming house burned down. Fortunately, she was saved, although she has dementia, and lives in Belle Vue now.
Early this afternoon, I received an email from Claire, which said, in pertinent part:  "I am sorry to let you know that mum passed away peacefully this morning. She had become so weak that there was nothing anyone could do. You were a very important friend to her so it was great that I found your email address and re-connected her with you."

Joan is gone, and one of the four legs of the table we four made up no longer supports us.  Sic transit gloria mundi.
Sonia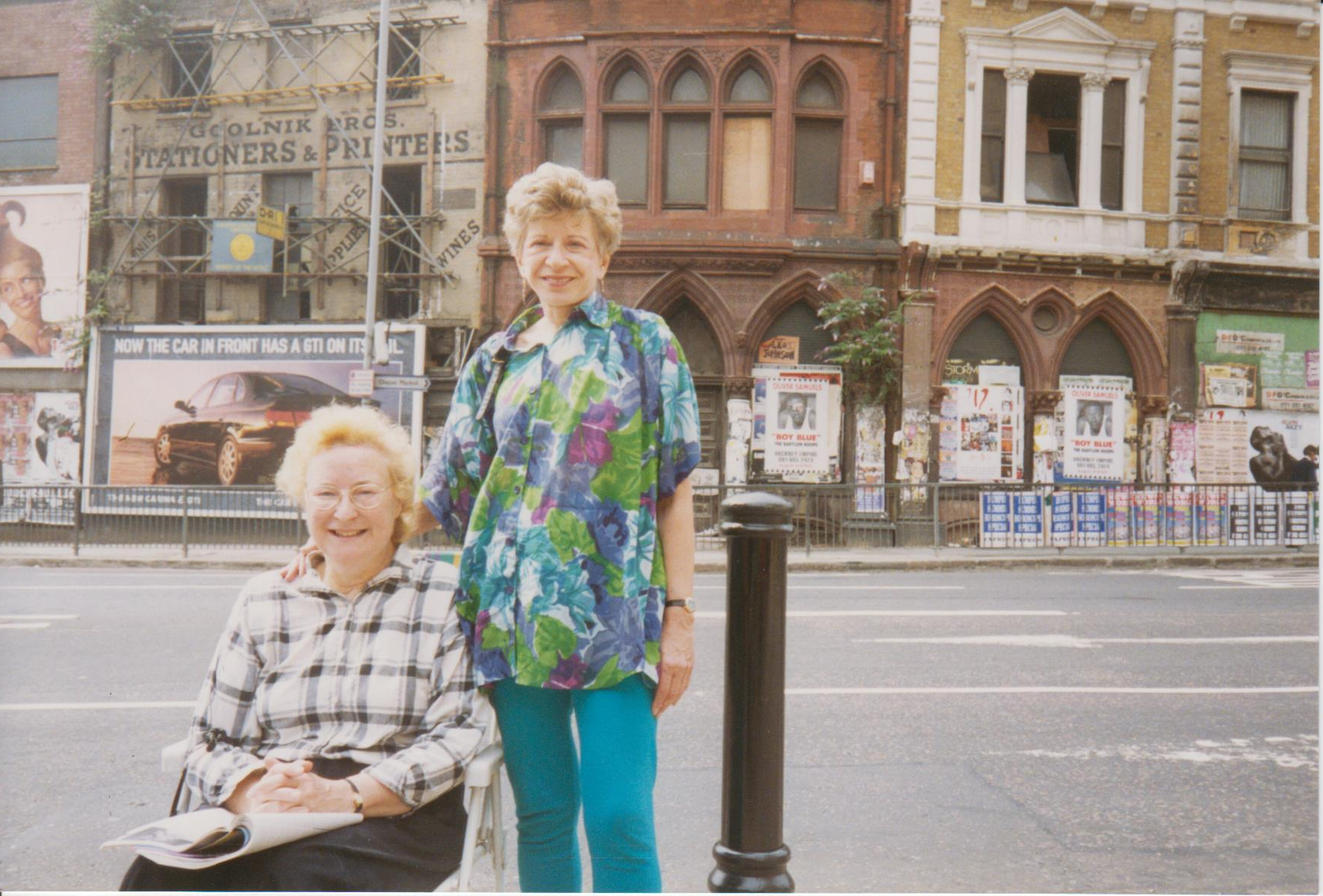 Sonia with Joan Davies, London, July 1990.